Newsletters

- Summer 2019
---
Founder's Message Our Legacy Is The Next Generation
Dear Friends,
In Judaism there is something called L'dor Vador. Loosely translated it means that the generations fold over each other, and they also fold into each other.

Having recently become a grandfather I am now more keenly aware than ever that life truly is a continuum.

While we mortals tend to count corporeal days, what really matters is how we choose to live those days, and how we pass down those values to the next generation.

Ever since our daughter Sarah's illness, our family has been dedicated to the comfort and wellbeing of children living with similar disabilities. We strive to increase their visibility and participation in the mainstream of humanity.

H.A.L.O. is also Sarah's legacy, our kindnesses are performed in her honor.

Thank you to all who join us in this effort. You make our gifts and programs possible.
Sincerely,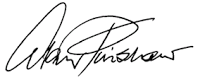 ---
---