Newsletters

- Summer 2018
---
Founder's Message Champions Flourish At the World Series And All Around Us
Dear Friends,
Since breaking the Bambino's curse in 2004, the Red Sox have celebrated World Series Championships in 2007, 2013 and, of course, this year. Being Boston-based, we've enjoyed the debate in Red Sox nation on who was the real MVP: Pitcher David Price who won Games 2 and 5 in his best postseason ever? Or the winner, First Baseman Steven Pearce, whose two homers in Game 5 sparked an unbeatable Sox offense?
Oh, how lucky to have so many heroes! Children with neurological impairment should be so fortunate. The kids H.A.L.O. serves need every champion they can enlist. The Foundation contributes to their quality of life, as do a battalion of family members, medical professionals and therapeutic staffers who bring them enriching experiences.
But the children need the larger community — you — to remember their humanity. They breathe, they laugh, they create, they feel. They matter!
Thank you, as always, for your continued support and for championing our children.
Yours truly,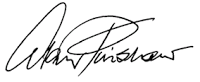 ---
---