Newsletters

- Summer 2018
---
Founder's Message We Are Making Their Days Meaningful
Dear Friends,
None of us exists in a vacuum. At home, at work, at school or in a hospital room, we all are part of a continuum.
H.A.L.O. strives to enhance quality of life for children who have unique needs due to severe neurological impairment. We make direct gifts to individuals, but we also recognize that parents, siblings, teachers, doctors, nurses, therapists and other support staff make important contributions to their days and nights.
In this edition of H.A.L.O. Reports I am pleased to share the success of our new Sibshop program which addresses the sensitivities brothers and sisters develop when family life revolves around a sibling with complex needs.
Sibshop is facilitated by the professionals at Jewish Family & Children's Service, who also operate our outstanding Sunday Swim & Sing social and respite program. Their expertise enables us to strengthen the overall support system that enriches the lives of children with neurological impairment.
Additionally we are sharing a story about a nurse who has championed a boy with severe disabilities for 13 years. We are also highlighting innovative programming implemented by staff at two pediatric residential homes to engage our "little ones" with the world around them.
It is uplifting to recognize the people and programs that make the children's lives more meaningful.
Thank you, our friends and supporters, for keeping H.A.L.O.'s children in mind and in heart.
Yours truly,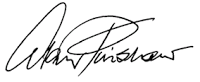 ---
---